Welcome drum enthusiast!
Here at AVA DRUMS I (mainly) build stave drums in Edmonton, Alberta, Canada.
Stave drums are constructed with solid pieces of wood in their natural state, unlike most mass produced drum shells that use a ply construction.
Staves cut to length ready for building have an actual note.. hold it gently between forefinger and thumb and tap it, it generates a tone, just like a xylophone.  Stave shells use less glue than ply and the wood isn't under constant tension like ply. Furthermore this type of build results in the grain running vertically from skin to skin…  This transduces head vibration into shell resonance giving stave drums quite a differentiating sound to their ply counterparts.
Stave shells will cut through like a metal shell in terms of volume, but have a warmer tone just like a regular wood shell.    The hardness of the wood will play a part in the fundamental tone/sound it produces.  Harder woods will have more projection and presence and softer woods will have more body and bottom end. Shell thickness and rigidity will also play a big part in the sound produced.
The stave production process utilizes custom made in-house tooling on an 8 cutterhead axial constant cnc moulder.
I can machine to within +/- 0.05mm accuracy to achieve a stave with an interlocking profile, that when assembled can retain the flat outer sides of each stave. Having this precision also means glue lines are invisible. The result is a next level stave drum.
The inner side is also machined to have the radius cut into the stave resulting in a perfectly round inner circle when assembled in the mold.
Check out the one pass process from raw wood to the ready to assemble stave in the video below.
Heres another Video of a drum build.
Here you can see the interlocking profile that's machined into each stave. This allows for precision alignment during glue up to retain the flat outer sides of the staves when assembled. The top and bottom reveal is then machined round for the skin to seat.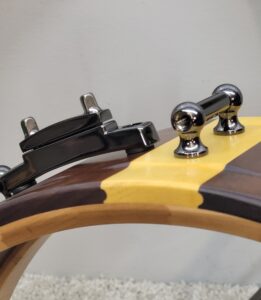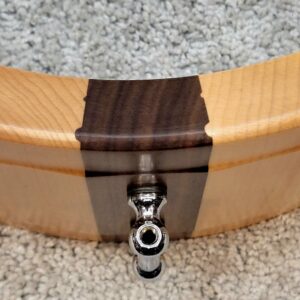 RE-RINGS
Another available option is added reinforcement rings.
These rings are also stave construction with interlocking joints. Its basically like making a shallow depth shell with slightly less diameter then slicing it in half and machining it to be a snug fit into the main shell. A regular reinforcement ring is normally a flat piece of wood that has a scarf joint and is literally forced outwards to make a tight joint between the ring and shell. These AVA rings are standalone components that are designed to support the shell and not interfere with its low tension stave properties.
These rings are not easy to implement but worth the effort as it will retain the low tension within the shell. A horizontal grained ring and a vertical grained shell will fight each other, seen it with my own R&D!
Both pieces having vertical grain means the ring and shell will move in unison if subjected to humidity swings.
"Why not just mill the rings into the shell like other builders do??" This method will add extra security against a potential unseen hidden flaw or weak spot within the wood and increase durability.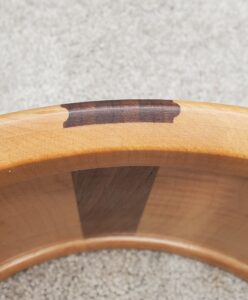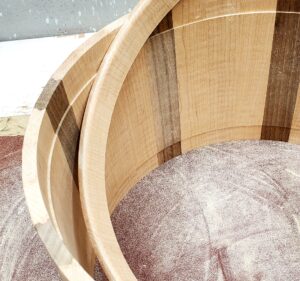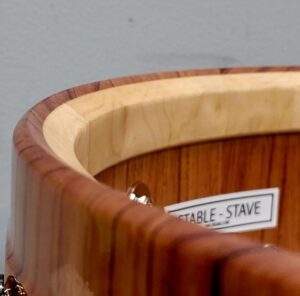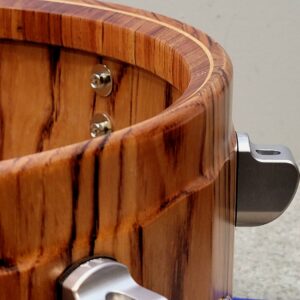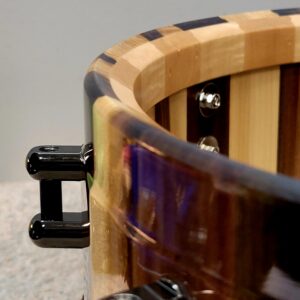 ——————————
ROUND OVER BEARING EDGE
After the addition of reinforcement rings I thought the thickness of the shell at the bearing edges was a bit too much for a full round over so I designed a little ogee shaped cutter to allow a full round over bearing edge. This keeps the rounded diameter to a total of 3/8″ then curves away through the reinforcement ring.
This really sets the drum up for a really fat sound. Gets a lot of shell to head contact and helps absorbs unwanted overtones right into the shell. Do not waste energy through some sort of external dampening, use it to bring the shell to life!  This Edge can be added to the batter side of a snare and will be used exclusively on all toms and bass drums.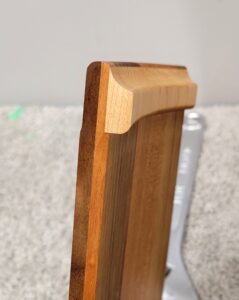 —————————-
AVA LUGS!
After a lot of trial and error and many hours of design with help from a few special friends along the way, I now have our proprietary custom machined AVA drum lugs.
These were designed to have a self-aligning feature that would avoid tension rod splay and keep everything nice and true.  Tension rod splay is a no no here at AVA.
AVA lugs are machined on a 5 axis CNC mill from billet aluminum to the highest of standards, precision and tolerances. Almost NASA quality!
They have an indexed stainless steel "piston" insert that can travel to/from the shell to aid alignment.
These lugs can be anodised in a variety of colours and they also have laser cut gaskets for a really tidy fit to the shell.
Are these the best lugs in the world?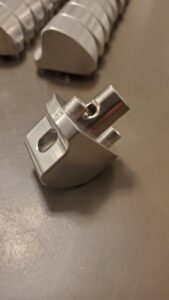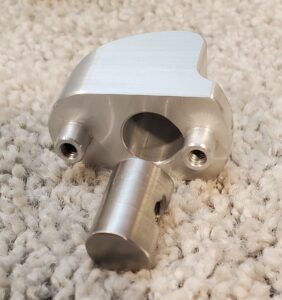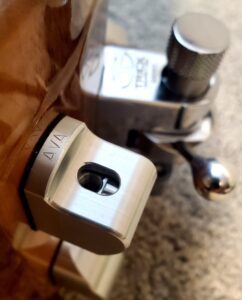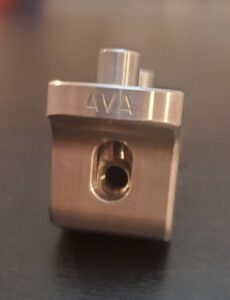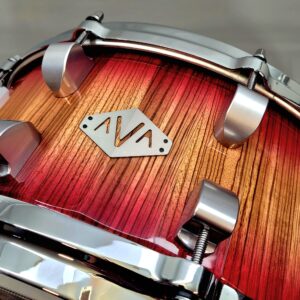 AVA LUG ROD-GRIPS
Some evolution on the AVA lugs. Trying out these tension rod grips for maximum tension hold.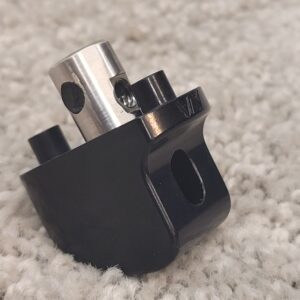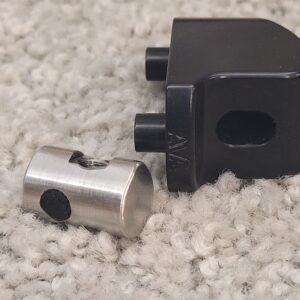 ————————–
STAVE SHELL CONSTRUCTION VARIETIES.
The STABLE-STAVE is a straight style AVA stave shell with stave re-rings added for extra durability.
This is my most popular construction method. 11mm shell with maple rings.
All stave construction.
This shell has now evolved to include a 1mm piece of flat horizontal grained wood in between the stave shell and stave re-ring.
This piece adds even more strength but it still allows the shell the expand/contract just like a normal stave drum.
A year long experiment with this construction had pleasing results, an unfinished shell that was exposed to the crazy humidity swings here in Alberta was able to shift without any harm or distortion to the shell.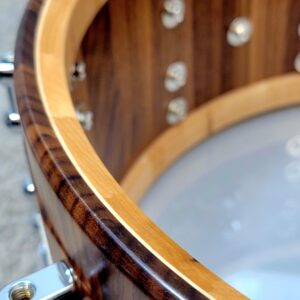 This one below I call the SLIM-STAVE
5mm thick staves.
3 piece re-rings consisting of two pieces of vertical wood with a horizontal grained center piece.
This construction also has a 1mm piece of flat horizontal Maple glued between the re-ring and the shell running the circumference of the shell
This build was inspired by acoustic guitar construction.
Thin shell/body like an acoustic sound board and using the reinforcement rings as the stability/structure.
Double ended tube lugs to evenly disperse tension load.
Responsive and super articulate.
From a whisper to a roar,
Defies many assumed logics!
Combines the projection of a thicker shell with the body and dexterity of a thinner shell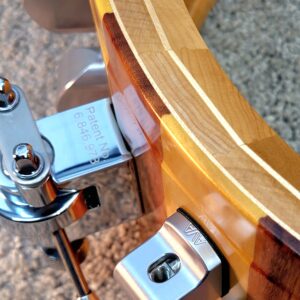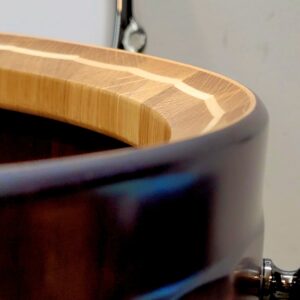 This is the STRAIGHT-STAVE it's a regular straight up AVA stave shell.
Maybe this is all you want! Well, no problem!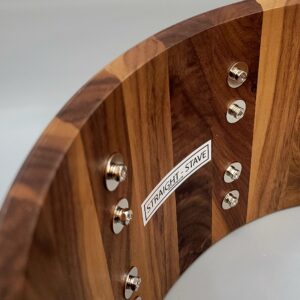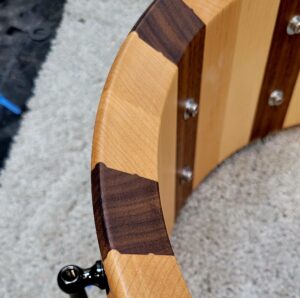 This construction I've named SUPER-STAVE
Inner and outer vertical grained pieces house a thin horizontal center piece for maximum strength and stability.
The SUPERSTAVE is designed specifically for ultimate durability.
This design is incredibly strong, the center cross lamination pieces increase stave strength tremendously. To test this I have driven over them, and put the stave pieces in a vice and smashed on them with a hammer. Crazy strong!
The actual secret here is the horizontal cross lamination pieces are thin enough to let the entire shell flex and not focus any trauma back to the joint.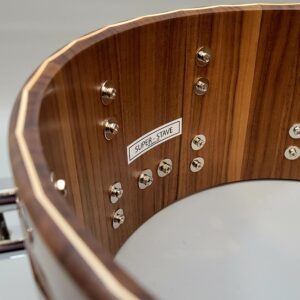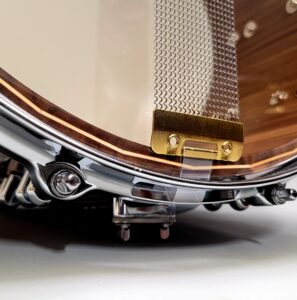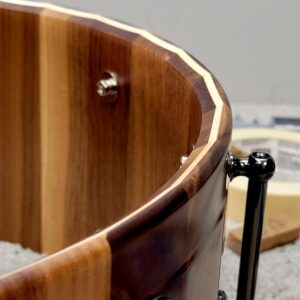 Check out this Super-stave 3 pc, the bass drum has an alternating horizontal grain Maple/Walnut pieces that overlap the bass drum shell joints by 50%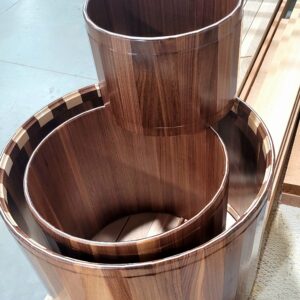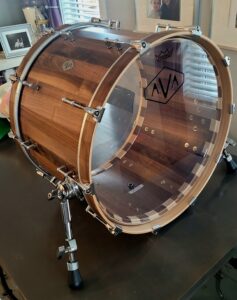 Segmented wood hoops are also a go!
These can be made with AVA STRIKE-PLATES installed in the areas that see the most abuse.
Can be cut from 3.2mm phenolic or brass!
The hoops have a recess machined into them to house these pieces.
The plates sit just proud of the hoop surface to take the stick impact.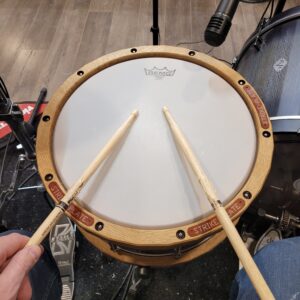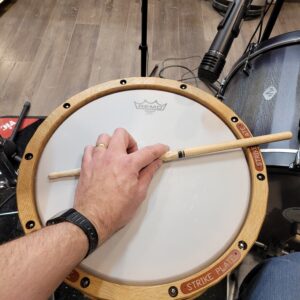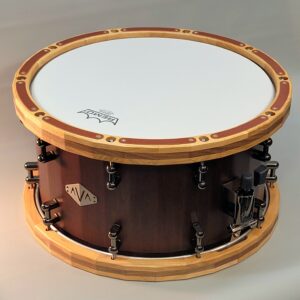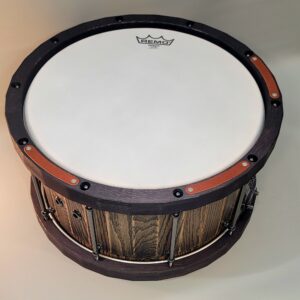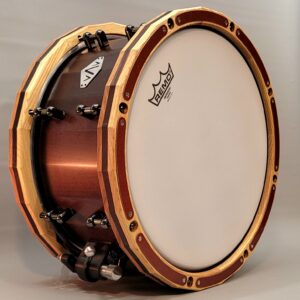 Also on offer are cast metal shells and hoops.
Available in Bronze, Brass, Aluminum, Stainless steel and Copper.. All sizes and depths- please inquire!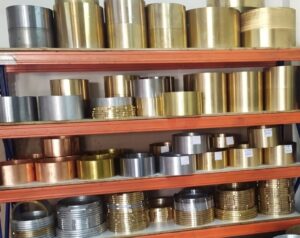 ————————————————–
My aim is precision made, high quality, great sounding drums with a unique twist.!
There are many options regarding depths, bearing edges, species and finishings. Please message with desired spec.
Prices are in Canadian $$$
Custom, made to order drums.. What do you want?
Craig McKean
AVA Drums
Check out these stave kits!